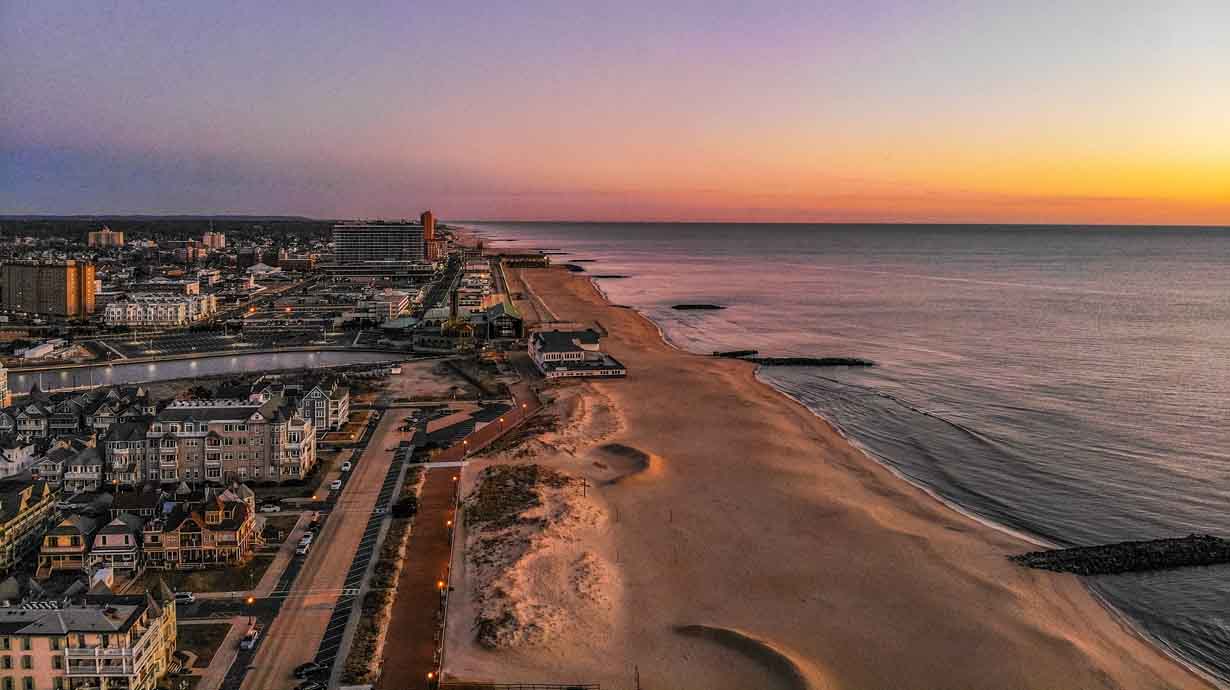 Verizon activates 5G in popular destinations just in time for Memorial Day
NEW YORK – Those planning Memorial Day celebrations in Niagara Falls, along the Jersey Shore, on the beaches of Delaware or in Ocean City, MD * now have access to ultra-fast 5G ultra-broadband service from Verizon. Looking ahead to the unofficial start of summer, a combination of fine spring weather and the availability of breakthrough vaccines has encouraged Verizon customers to be more mobile in recent weeks. Mobile transfers, the times when a data session moves from one cell site to another when users are walking or driving, increased 28% since mid-January and increased 31% from last year in the same era.
As vacationers and residents alike use this newly found freedom to travel to many popular vacation destinations, they can now enjoy super-fast wireless speeds, allowing them to download and stream movies and shows from television in seconds while relaxing in the sun, keeping up with things. in the office and via video conferencing and collaborate in near real time, and enjoy new wireless games and immersive experiences.
Small business customers in these markets now have access to technology that can dramatically accelerate their digital presence, revolutionizing the way they can interact with their customers, track inventory, manage operations, and interact with their staff. With contactless retail solutions taking center stage over the past year and consumer response to these solutions so positive, Verizon's 5G can help many of these businesses implement retail options. permanent contactless detail.
Those charged with protecting residents and visitors to these places will also see the future benefits of the transformative power of 5G. With Verizon Frontline, the advanced network and technology designed for first responders, public safety professionals in these fields could benefit from the high speeds and low latency of 5G to collect real-time situational intelligence, achieve augmented or virtual reality. reality training before an influx of visitors, or simply collecting vehicle or pedestrian traffic data to make traffic adjustments – which will allow everyone to enjoy a safer summer.
"As people return to normal activities such as vacationing, spending the day on the shore and traveling again, the power of Verizon's Ultra Wideband 5G will be fully on display. We designed this network specifically to handle the data traffic of large crowds in some of the most popular destinations in the United States. As we see the crowds start to increase, traffic at airports and train stations increases and events start to return, we will be ready to deliver the world class 5G experience our customers want, "said Kyle Malady, chief technology officer at Verizon.
Enjoy your summer destination
On the Jersey Shore: 5G Ultra Wideband coverage is available at Long Branch, Downtown Asbury Park, Bradley Beach, Sea Girt, Manasquan, Long Beach, Margate City, Sea Isle City , Atlantic City, Long Branch Beach, Asbury Park Beach, Sea Girt Beach, Holgate, Brant Beach, Spray Beach, Bradley Cove, North Ocean City and more. * Visitors can enjoy 5G Ultra Wideband service around Ludlam Beach, Sea Isle City Historical Museum, Great Lawn Beach, Brown Park, Central Pier and many more attractions, shops and restaurants.
On Delaware Beaches: Ultra-broadband 5G coverage is available at Dewey Beach, Bethany Beach, South Bethany Beach, Fenwick Island, and more. * Visitors enjoying the Coastal Drive, Bethany Beach Boardwalk, shopping areas around Sea Colony and Delaware Seashore State Park have access to unprecedented wireless speeds and capabilities.
In Ocean City, MD: 5G Ultra Wideband is available at Butterfish Cove, Coastal Highway, Pacific Avenue, Worcester Street, S. Philadelphia Ave., St Louis Avenue, N. Baltimore Avenue and more. Visitors enjoying downtown Ocean City, Heron Harbor, Northside Park and more * will experience the speed and capabilities of 5G Ultra Wideband.
In Niagara Falls, New York: 5G Ultra Wideband is available at Hyde Park, Falls West, Downtown, 22nd Avenue and 11th Street. * Visitors to Cave of the Winds, Niagara Aquarium, Gluck Park, Hyde Park and more will now enjoy Ultra Wideband 5G Speeds.
For full availability, please visit: https://www.verizon.com/coverage-map/
Make the trip a little easier
As the journey reopens, getting to your destination can be a little more enjoyable with Verizon 5G Ultra Wideband service now available in parts of Chicago O'Hare, Columbus, San Antonio, Des Moines, Salt Lake City, Milwaukee, Dulles International, Chicago Midway International, McCarran International, Tampa International, Indianapolis International, Reagan International, John Wayne Airports and forthcoming, Pittsburgh International Airport. When traveling as a family, you can download movies to watch on the flight, get near real-time flight information updates, video conferencing with coworkers between flights, or just enjoy layover time while you are traveling. while playing wirelessly, all on 5G Ultra. Wide band.
* 5G ultra broadband is now available in parts of over 70 cities.