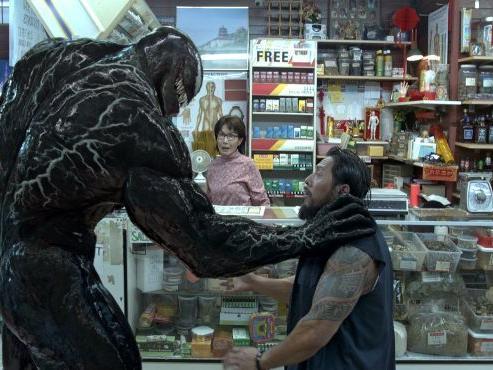 "The Addams Family" and "Venom" Franchises Pass Seconds | Movie
I've always been more of a kid of Munsters than a kid of the Addams family, but Charles Addams' spooky 1938 comic creation is the appalling favorite these days (snap, snap): four TV series, one musical on stage, a DTV movie, "The Addams Family" (1991) and "Addams Family Values" (1993) – the rare sequel that's better than its predecessor – and now "The Addams Family 2", the reboot sequel animated from 2019. I missed it in 2019, but I'm caught up on everything now.
The 2019 reboot comes straight from the playbook of Tim Burton, the Addams clan living on the outskirts of a pastel-hued town full of highly compliant "normal" people. It's a few notches above Adam Sandler's "Hotel Transylvania" franchise, to see just to hear Lurch's version of REM's "Everybody Hurts". In another inspired sequence, Wednesday Addams (Chloë Grace Moretz) turns a frog dissection from biology class into a hilarious homage to the Universal Frankenstein films.
Wednesday's alien personality is the centerpiece of "The Addams Family 2" (MGM-Bron, 2021, 93 min.). Let's talk about compliance: She takes a hard time when everyone wins top prize at the school's science fair, and a weird man and imposing henchman snoop around, suggesting Wednesday was changed at birth, and so not really an Addams. So the family decides to take a road trip as a distraction, and we get "The Addams Family Tours…" vignettes scattered across the country: Niagara Falls, Sleepy Hollow, Miami, San Antonio. Meanwhile, thanks to Wednesday's Science Project, Uncle Fester (Nick Kroll) is gradually turning into an octopus, and the question of his lineage forms the film's pursuit element.
There is a funny gag reminiscent of "Time Bandits" (1982), where a man trying to propose to his girlfriend at various famous American landmarks is repeatedly foiled by Addam's madness. And wouldn't you know, Lurch (Conrad Vernon) gets another musical number in a scene set in a biker bar, perhaps a nod to the "Tequila" scene in "Pee Wee's Big Adventure" (1985).
***
In the comic book genre, the "Venom" movies belong to the Jekyll and Hyde subgenre, or if you prefer, "The Odd Couple". In any other movie, Tom Hardy's Eddie Brock would be the Oscar, but now that he's absorbed an Id monster like the alien symbiote Venom, Brock is clearly the Felix in this mad, adrenalized series. (Hardy also voices Venom, who looks like a psychotic Cookie Monster.) Venom just wants to devour the world, and Brock just wants peace and quiet.
In "Venom: Let There Be Carnage" (Sony-Columbia, 2021, 87 min.), Brock attempts to revive his journalistic career by interviewing demented serial killer Cletus Kasady (Woody Harrelson, picking up where "Natural Born Killers" left off. behind you). When the two brawl, Venom appears and injures Kasady, leaving a splash of blood on Kasady's face. He swallows it and turns into Carnage.
Andy Serkis, Gollum himself, steers this insane pulp with his pedal to the metal, stuffing a lot of backstory into his 97 minutes, including side romance stories: Brock (and Venom) are still in love with his ex. -fiancee Anne Weying (Michelle Williams), who has a new man in her life, and Kasady has her own romance with Naomi Harris, playing the mutant Shriek, aka Frances Barrison. There's a lot of comedy here, but Serkis is in such a rush that he sometimes undermines any comedic timing by speeding up to the next scene or shot.
However, I prefer this version of Brock and Venom to the one featured in Sam Raimi's too drunk movie.
"Spider-Man 3" (2007), and for the first time in the "Venom" series, we get a Spidey credit cookie. If Tom Holland shows up for part three, I'm here.
Recommended: "Evil Dead" by Sam Raimi on 10/21 at 7:30 p.m. @ Regal Cinemas
"Attack on Hollywood Clichés" on Netflix
RIP Tommy Kirk ("Old Yeller", "The Shaggy Dog", "The Absent-Minded Professor", "Son of Flubber", "Swiss Family Robinson", "The Misadventures of Merlin Jones")
"The Addams Family 2" and "Venom: Let There Be Carnage" are playing at Regal Cinemas at the Shops at Ithaca Mall.