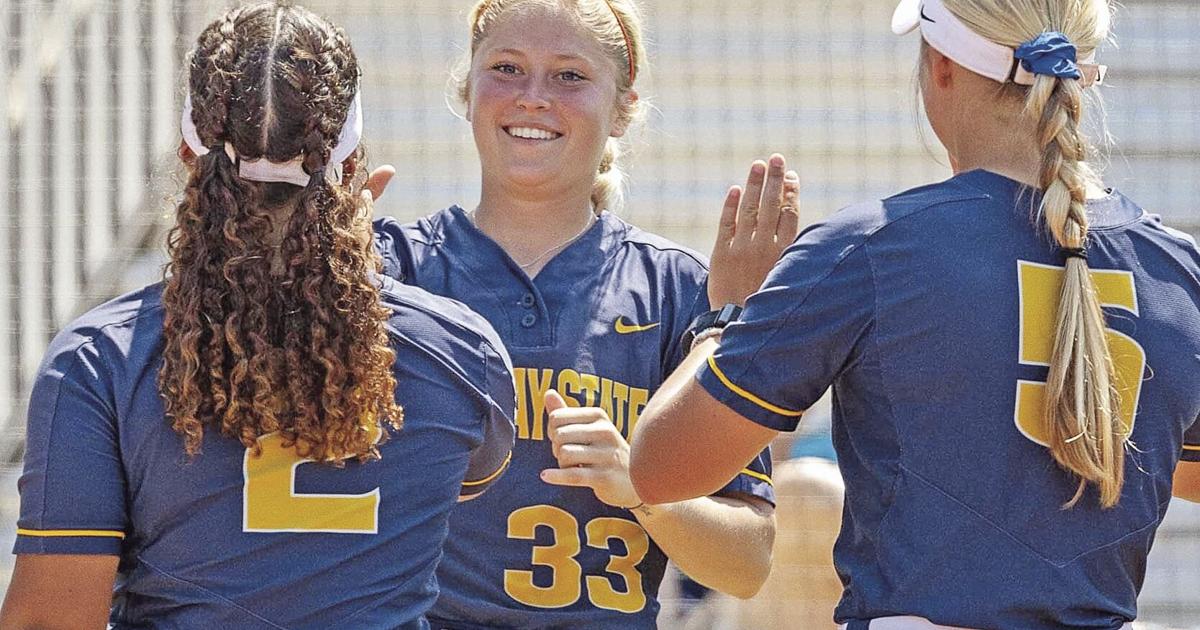 Striegel returns to the field just in time to make a huge impact on the runners | Murray State
MURRAY "It's an unfortunate fact of sport; injuries happen.
Often, however, it is the timing of these ailments that determines the impact on a team. So when Murray State senior outfielder Jensen Striegel suffered a foot injury about a month after the Racers' softball season ended, there were repercussions. Not only was she the starting center fielder, but she was also a strong offensive contributor. One could wonder if she would see the pitch again this season, a season that was to become very memorable.
Well, not only did she come back, but she made a huge difference. Still a little gimpy, Striegel returned in time for last week's Ohio Valley Conference Tournament in Oxford, Alabama, and provided several huge plays as the Racers claimed their first-ever OVC tournament title. and their place in the NCAA Tournament.
"I'm so happy that (her season) didn't end (while she was still on the bench). I didn't want it to end on this note," said Striegel, who will take her place on the court from two-time national champion Alabama later today as the No. 3-ranked runners take on powerhouse PAC -12 and the No. 1. 2 seed Stanford at Rhoads Stadium in Tuscaloosa, Alabama. "It's something we've wanted to feel for five years now (along with fellow fifth-year players Sierra Gilmore and Logan Braundmeier) and it's something everyone talked about as soon as we got here. It was the long-awaited moment.
"I hope we can feel another like this."
Striegel is a big reason why this moment is even happening. Along with batting .312 at the plate, she provided some very memorable defensive plays.
One of them was a diving catch on a sinking fly ball in the fourth inning of the Racers' 1-0 win over Belmont last Friday in their second game of the tournament.
The other fulfilled a dream Striegel said she had since joining Murray State. It was the ninth inning last Thursday of the Racers' 12-inning 3-1 win over Southeast Missouri, with the game still scoreless.
She stole a home run from a player.
"It was just reading the ball and trying to get to the wall. That's it," she said, obviously downplaying that play. If that long fly ball, hit by the power hitter SEMO Aubrie Shore, had landed on the other side of the left center field wall at Choccolocco Park, it would have been a three-run homer as the Redhawks had two runners on base It would also have put the Racers in a very difficult position to get back in. Instead, it resulted in just one run, with Shore getting what was still a very significant RBI, but only one, not three.
"I knew it was going to be deep and high enough that I could get back to the fence, but I didn't know exactly where it was going to go. I just went for it," she said of the moment she jumped up with her left hand outstretched above the wall. "When he touched my glove, I was like, 'Holy shit! Did I just do that? Then I was worried about the runner on third, so I tried to get rid of (the balloon) as quickly as possible.
There was no way to eject the runner in third, so the Racers faced a 1-0 deficit going into the bottom half of the inning. And, as it would play out, Striegel's hold was a game saver, as the Racers scored just a single run in the ninth, a first solo homer from one of his closest friends in the game. team, second baseman Lindsey Carroll.
Instead, Carroll's shot tied it. Three innings later, Striegel's bunt single preceded third baseman Gracie Osbron's two-run bomb to end a game that was tied for the longest in OVC tournament history.
"It wasn't really depressing (that his grip didn't stop a run) because I had no doubts. We can hit the ball very well," she said. "Oh my God! It was so awesome when Lindsey did that.
"But as far as I'm concerned, I just try to get our pitchers out and I don't care if it's on the ugliest play or the best. I just go out for them.