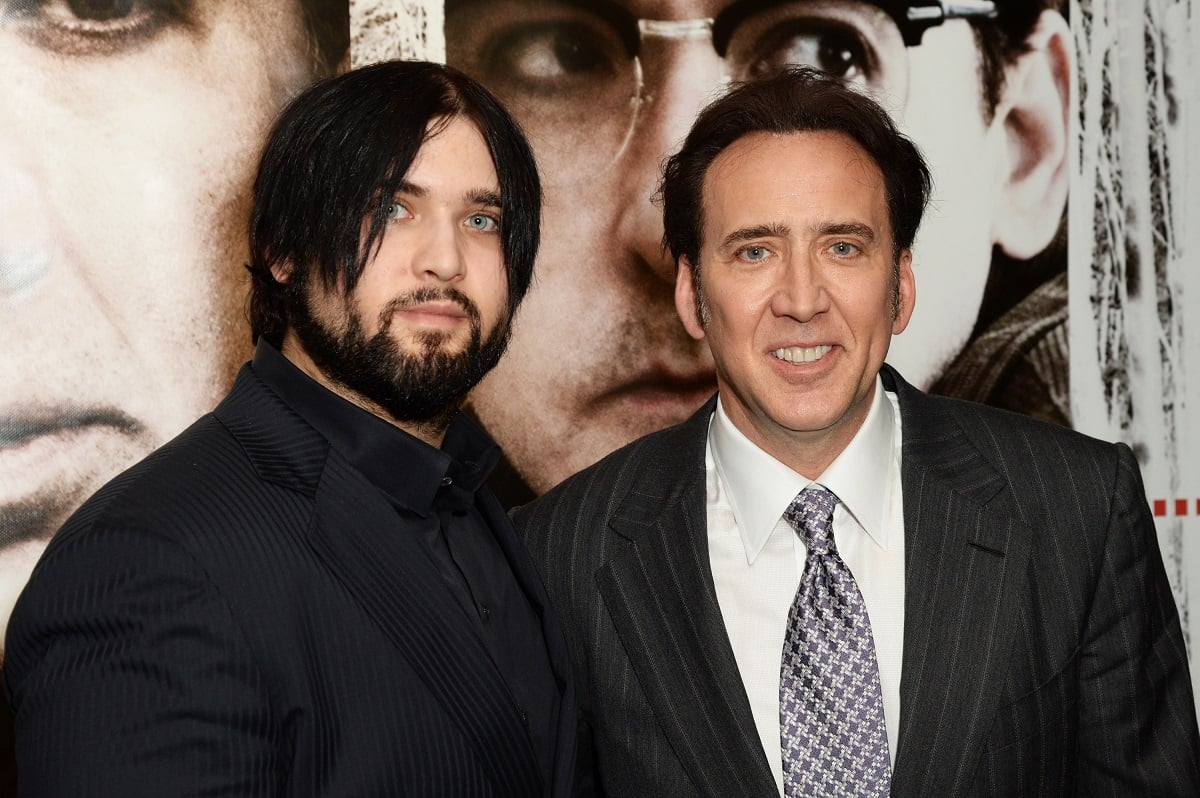 Nicolas Cage turned down 2 major franchises because of his son, Weston
In his movie The unbearable weight of massive talent, iconic actor Nicolas Cage portrayed himself. The role sees the star look back on his career – but he doesn't have much in common with the man in the film. After all, the real Nicolas Cage turned down two popular movie franchises for his son.
Nicolas Cage is a "family man" for his sons
The actor will soon be a father of three children. Nicolas Cage married his current wife, Riko Shibata, in early 2021. In January, the couple announced they were expecting their first child together.
Cage also has a son with his third wife, Alice Kim. Kal-El – yes, named after Superman – was born in October 2005, just over a year after his parents married. But Cage's eldest child is his son, Weston Cage Coppola, with his ex-girlfriend Christina Fulton. Cage and Weston's mother dated for a few years before he was born in 1990 but never married. They separated when he was about a year old. For Weston's childhood, Fulton had full custody of him. The boy's mother was afraid that the Oscar-winning actor would negatively influence him.
Since Weston reached adulthood, he has spent quite a bit of time with his father. He also gave his father two grandsons. The two have a close relationship now. And years ago, Cage passed up two big career opportunities to stay close to Weston.
Nicolas Cage could have played Aragorn and Neo
In a 2022 interview with The Hollywood Reporter, Cage explained that he turned down roles in both. The Lord of the Rings and The matrix franchises because he didn't want to be away from his son Weston in Los Angeles. He was offered the role of Aragorn in 2001 The Lord of the Rings: The Fellowship of the Ring, but it required him to spend about three years in New Zealand for filming. Cage turned down the role, which ultimately went to Viggo Mortensen.
"I've always put my family first and turned down huge opportunities because of it," Cage explained. At the time – at the turn of the century – he was in the process of divorcing his first wife, Patricia Arquette. For The matrixwhich premiered in 1999, Keanu Reeves took on the lead role of Neo, which Cage was also up for.
An incredible career
As Nicolas Cage explained to THR, he has no career regrets — especially not turning down big franchise money for his son. "A version of Nick Cage who doesn't want to spend time with his child doesn't exist," he said.
Cage has had an odd relationship with the mainstream Hollywood machine. He explains that there was a "mutual departure" between him and the blockbuster industry years ago. Cage became a philosophy student. And during that time, he stopped caring about glitz and glamour, deciding to "pursue a life of contemplation."
This period coincided with Cage's film roles in sorcerer's apprentice, ghost riderand driving angry. Neither film was a huge commercial success. He admits he was more interested in meditation and philosophy.
But the phone kept ringing. Cage eventually returned to his interests in indie drama, like the critically acclaimed film Pork. After 43 years in the industry, the actor points out that his worldwide box office total is approaching "something like $6 billion." Clearly, his family-oriented approach works everywhere.
RELATED: Nicolas Cage doesn't 'regret' any movie he's made: 'Everything happened for a reason'