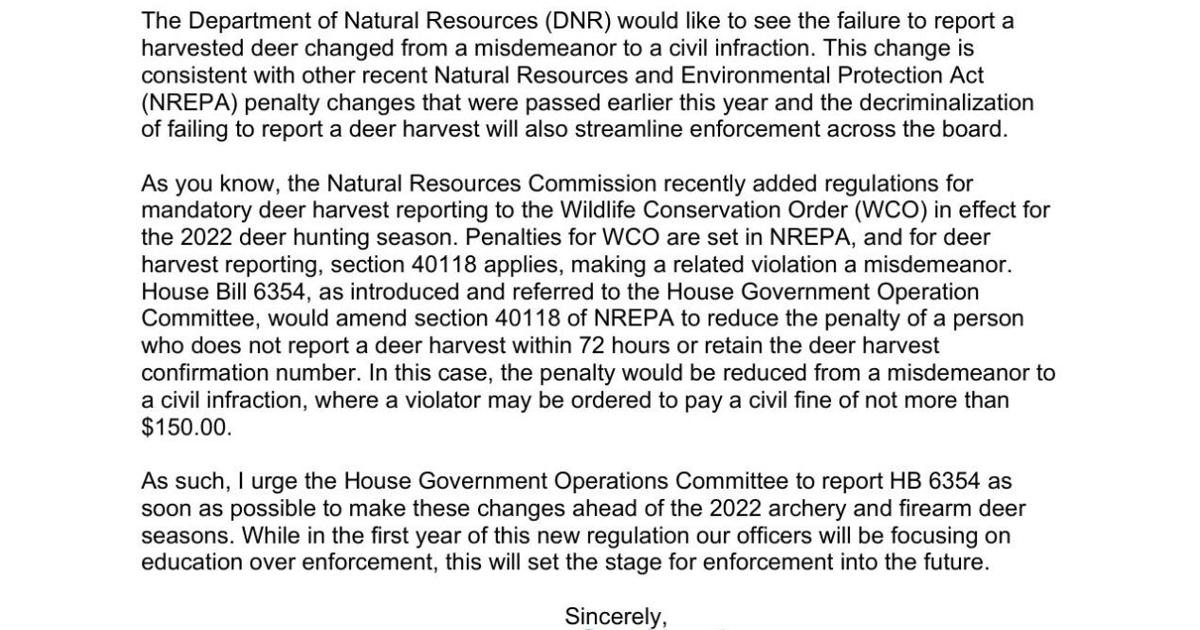 MNR Calls for Quick Change to New Mandatory Deer Hunting Reporting Rule | New
LANSING – A letter to several heads of state hopes to pass a change to new deer regulations before the start of the next archery season on October 1.
The letter, written by Michigan Department of Natural Resources Director Dan Eichinger, was sent to Rep. Mike Mueller, R-Linden, chairman of the House Government Operations Committee. The letter was dated September 19. In the letter, Eichinger wrote that the DNR would like to see the penalty for failing to report a deer harvested within 72 hours changed from a misdemeanor to a civil infraction.
Eichinger said the change is consistent with other recent changes to the Natural Resources and Environmental Protection Act passed earlier this year and that decriminalizing failure to report a deer harvest would also streamline enforcement. .
Earlier this year, the Michigan Natural Resources Commission enacted a rule that deer hunters are required to report a successful harvest within 72 hours or before transferring possession of the deer to another person, such as a processor or a taxidermist. The change has been added to the Wildlife Conservation Ordinance and is effective for the 2022 hunting season.
Eichinger wrote House Bill 6354, as introduced and referred to the House Government Operations Committee, would amend NREPA Section 40118 to reduce the penalty from a misdemeanor to a civil offense, where a violator may be ordered to pay a civil fine not exceeding $150.
For this reason, Eichinger concluded his letter to state that he urges the House Government Operations Committee to report on the house bill as soon as possible in order to make these proposed changes before the shooting seasons. bow and gun hunting. Either way, Eichinger said conservation officers will focus on education rather than enforcement in the first season with mandatory reporting in effect, which will set the stage for enforcement in the future.
Michigan was the last Midwestern state to move forward with mandatory reporting, and the 72-hour reporting window is one of the longest compared to other Midwestern states. Other delays are 24 hours or less. For example, hunters in Minnesota who successfully harvest a deer must report it within 48 hours, while hunters in Wisconsin must report it by 5 p.m. the day after it is retrieved.
After the recent Liberty Hunt, DNR Deer and Elk program specialist Chad Stewart said 5,800 deer were reported, which exceeded DNR's best estimate of hunter response. Although some hunters have expressed dissatisfaction with mandatory reporting, Stewart said word is spreading and hunters are participating.