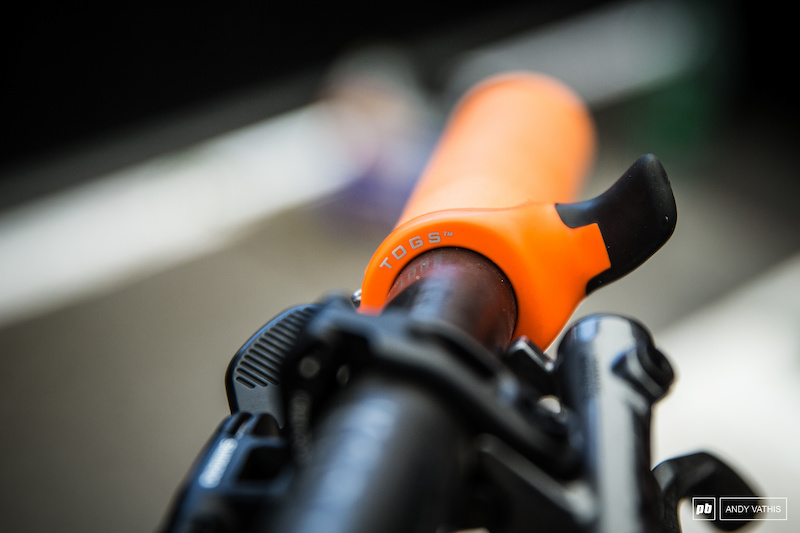 Indoor bars prohibited and other changes to UCI rules for 2022
The UCI has published its 2022 rulebook and, while there are no significant changes, some adjustments will go into effect on January 1. These changes include new equipment regulations, a change in the point scale, and a few calendar administrators as well. Here are the most interesting things we spotted:
1. Indoor bars prohibited
Road style downhill bars have long been banned by the UCI, but there is now a new addition to regulation 4.1.040, inner bar ends are also prohibited. The "inner bar ends" might seem a bit contradictory (we prefer the term "middle of the bar"), but these are handlebar extensions that are placed on the inner side of the grips to provide an alternate hand position when climbing on non-technical terrain. ground. We've seen TOGS (Thumb Over Grip System) on a number of racing bikes in recent years, but there are options from SQLab and Spirgrips as well.
We're not sure why they were banned and have contacted the UCI for more information, but traditional bar ends are still allowed if riders need an alternate hand position.
---
2. The short track becomes less impacting on XCO
Short track has its own world championships for 2021 and now it is also expected to have its own World Cup series winner. Short track races will still run alongside XCO events on a World Cup weekend, but riders will now earn points for an overall short track series as well as for their XCO ranking.
Short Track Series points correspond to XCO points – with 250 points for one win, 200 for second, etc., but there are now significantly fewer XCO points available for the Friday night race. A short track victory gave a rider 125 points for the XCO overall, but it now only gives 80 with 65 for second place and 50 for third. The new points table up to 20th place can be seen below:
The only other XCC change to note is that the maximum race time is now 30 minutes, down from 60.
---
3. Injured runners can keep their protected status
The Protected Driver System is one of the most confusing mechanisms for gaining an idea when it comes to racing regulations and it's even more complicated. The UCI added a clause for riders who spent most of the previous season injured to allow them to retain protected status in the first race of the following season. If a rider has participated in less than 3 World Cups and has performed well in those in which he has participated, he can return the following season and still benefit from a protected status in XC or DH. The full wording of the rule is:
---
The full 2022 regulations can be read here.