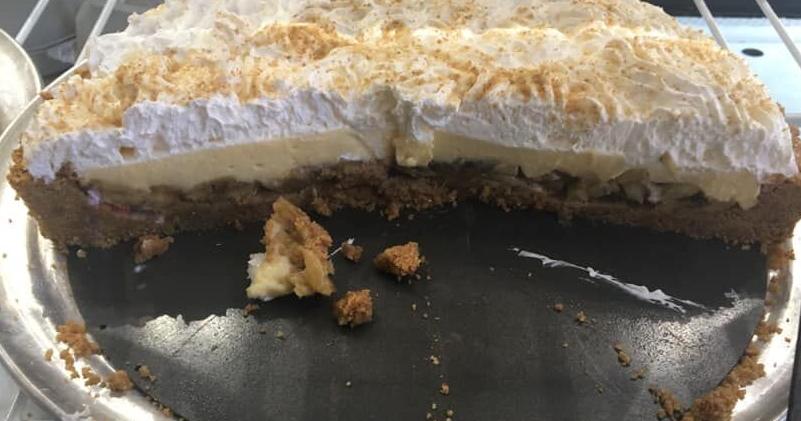 In search of a lost ancestral recipe: the raisin pie from the Robinette Valley | Family
Just in time for Pi Day, my chocolate pie recipe columns seem to have sent a lot of people to the kitchen and at least one of my readers looking for her own favorite heirloom pie recipe.
Personally, I've tried to block the mathematical pi from my mind since high school. Not only did I not celebrate March 14 as Pi Day, but I didn't know it was on the horizon until Lucy Fleming reminded me. I had to admit that I deserved no credit for planning my columns as an introduction to Pi Day celebrations.
According to www.piday.org, "Pi Day is celebrated on March 14 (3/14) around the world. Pi (Greek letter "π") is the symbol used in mathematics to represent a constant – the ratio of a circle's circumference to its diameter – which is approximately 3.14159. Pi Day is an annual opportunity for math enthusiasts to recite the infinite digits of Pi, talk math to friends, and eat pie.
I'm with them on those last two words at least.
The website has tips on how to celebrate Pi Day, including party decoration suggestions and a good selection of Pi Day t-shirts. Yes. Pi Day t-shirts (my favorite features an image of an actual pie, followed by the text "Day".)
Today I bring you a pie quiz by request from the reader I mentioned above. Bloomingdale's Debra Crawford, whose late husband, Junior (Hugh Samuel Crawford Jr.), owned and operated Mr. C's Automotive, craves a childhood favorite: raisin pie.
But not just any raisin pie.
"I want a piece of mom's raisin pie," Debra told me a few days ago. "It has been passed down through several generations. Mom wrote it to me and I put it away. Now I can't find it.
I told Debra that this happens to even the best "keepers of things", including myself.
Here's the catch, before you start sending me your raisin pie recipes (which I hope) – Debra is wholeheartedly convinced that her mother's raisin pie recipe didn't include vinegar or juice lemon.
When she told me this, it took the wind out of my imagined white horse sails because every recipe I had found included one or the other.
Some recipes call for baking the filling on the stove, pouring it into a pre-baked pie crust to cool, and topping it with meringue. Others call for mixing the ingredients for the filling, pouring them into unbaked pie crusts, and baking them until firm and golden brown.
Debra says her mom mixed the ingredients together, poured them into unbaked homemade pie crusts, baked them, cooled them, and topped them with meringue. At her father's request, Debra said her mother then baked raisin pies without the meringue.
Mom just told me it brought back a childhood memory. Her mother, Pearl Johnson Wallen, disabled by a stroke when Mom was barely a teenager, one day sat at their kitchen table and taught her how to bake raisin pies. Mom thinks it was "like making an egg tart, but adding raisins to it."
It's another coincidence. My grandmother was Pearl, often called "Pearly" by my grandfather Null. Debra believes her family's raisin pie tradition began with her great-grandmother, Pearl "Pearly" Winegar.
Debra's family was from the Robinette Valley area of ​​Scott County. Some records list him as Speers Ferry, others as Duffield. Many of his family records that I found online, of course, list Weber City and Gate City as locations where life events were recorded.
Debra's maiden name is Head. His parents were James Cecil Head and Shirley Mae Gilliam Head. Shirley's parents were Mitchell E. Gilliam and Bonnie Lee Presley Gilliam. James Cecil Head (Debra's father) was a son of Ballard F. Head and Marcia Winegar Head (other spellings for Marcia I've found include Marsie on the World War II era draft map of Ballard; Marsha; and Marcie Edna (from a marriage certificate). Marcie's parents were Albert Vernon Winegar and Pearl Powers Winegar. I found a document that listed Pearl's maiden name as "Paris", which which I guess to someone a hundred years ago might have sounded pretty close to "Powers".
I've included all of these names in hopes that someone else descended from Debra's great-grandmother "Pearly" or someone from Robinette Valley might have a childhood flashback. (more detailed than mom's) or an actual recipe passed down to help Debra taste her mom's pie again.
Debra said she knew her mother started by putting some raisins and a little water in a pot on the stove and cooking the raisins until they puffed up. She added hot raisin butter. The sugar, eggs and vanilla, measures unknown, were mixed in a bowl and then combined with the baked and buttered raisins. The filling was poured into unbaked crusts and baked until you guessed it, golden brown.
Debra also knows that her mother used at least one other ingredient that she doesn't remember. But it was NOT vinegar or lemon juice.
I wrote before that dad took mom to the Hob-Nob while they were dating and after they were married in 1955. Less than a year later mom was pregnant with my sister Pamela.
Debra's parents, Cecil and Shirley, married in 1956 and a year later Shirley was pregnant with Debra, who says Hob-Nob burgers and cherry milkshakes were her first craving during her pregnancy.
Before I forget, Mr. C's Automotive is still going strong in Bloomingdale's and still operated by family members.
If you have a great recipe for raisin pie and you're ready to share it, submit it. I've never really been a pastry chef, focusing mainly on cakes. I decided to make this spring and summer a time to master a handful of classic pie recipes.
Good day Pi, by the way. But quite simply, happy pie seems so much more fun.