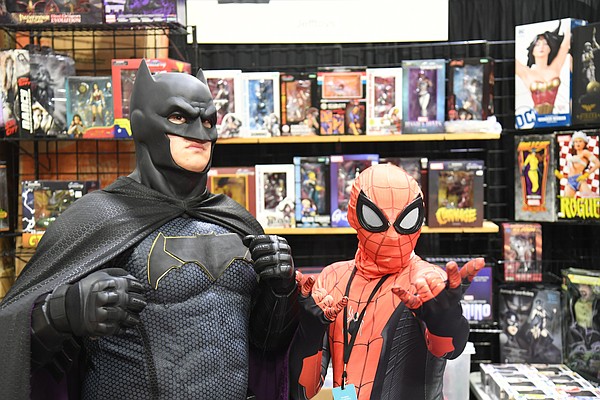 Cosplayers shine at the fifth annual Spa-Con
Cosplayers, comic book fans and pop culture fanatics flooded the grounds of the Hot Springs Convention Center for the fifth annual Spa-Con on Saturday.
Guests included Rodger Bumpass, the voice of Squidward Tentacles from the TV show "SpongeBob SquarePants" and a plethora of comic book artists, including Michael Golden and Rags Morales.
The convention attendees really got into cosplay as fans from different franchises mingled, chatting and taking many photos together. Locals as well as visitors from across the state wore costumes from the realms of Star Wars, Marvel, DC, video game franchises and more.
"I love cosplay," said David Franklin, dressed as Darth Vader. "For me, it's just fun. I like to dress up as different characters."
Hailing from Russellville, Franklin has been to every Spa-Con since 2017 and said the convention is just a great place for people to have fun and show their support for their favorite franchises.
Franklin was a popular target for photographs on the ground on Saturday as his version of Darth Vader arrived with a twist. Instead of wearing Vader's traditional helmet, Franklin sported a homemade look from the time Vader took off his helmet in "Return of the Jedi."
Franklin went with the helmet in part because wearing Vader's traditional helmet gets extremely hot.
"I just wanted to try it out," Franklin said. "I've seen a few people do it at other conventions in pictures but I've never seen it here in Arkansas. So I thought why not, let's give it a try."
Gallery: Spa-Con
Gallery not showing? Click here https://www.hotsr.com/photos/galleries/2021/sep/25/spa-con/
While comic book fans obviously enjoyed Saturday's festivities, the featured guests themselves also had a little fun getting out of the studio for a bit.
"We're going out and it's invigorating especially for us," said Morales. "I mean the fans, they can see us and we can see them. But we work at home, so when we finally go out and meet people, we realize how important it really is. For us, we are. in small studios. We go out and we realize the energy. We can't wait. "
Spa-Con marked Morales' first convention in Arkansas and the DC artist enjoyed interacting with fans.
"It's kind of like, 'Yo, we speak the same language,'" Morales said. "I'm going to tell you all the things about the comics that you might not know and you will tell me things about fanbase that I don't know. We're family. It's cool."
Morales has even taken the time to enjoy the local spots that Hot Springs has to offer.
"I dived, I had a lot of fun," said Morales. "The funny thing is I was pulling out stuff and twisting my back. I was kind of having spasms in my back. I was in pain and I went to the hot springs and I felt good there. -inside."
If the cosplay and rows of booths in the exhibit hall weren't enough, the Garland County Library sponsored a Smash Bros. tournament. in Bank OZK Arena and adult services programmer Paul Kagebein helped organize the competition.
Over 10 screens were set up on the arena floor where players showed off their playing skills. There was even a main stage with a giant screen for spectators to watch the matches in the spotlight.
Brandon Lercher, from Jonesboro, traveled to Hot Springs to participate in the tournament after initially being part of the Smash Bros. community. circa 2016.
"I love supporting this event," Lercher said. "Paul is an awesome TO. I'm here to hang out with the guys and just enjoy this awesome game. Honestly the best thing about the Smash community is that they're so open and accepting so many different people. I've made some of them my best friends through Smash. Events like this are a really great opportunity to see that. "
Lercher was one of the first to compete on the main stage on Saturday.
"I love this atmosphere," Lercher said. "So far it has been wonderfully laid out. I love this venue and Paul was telling me about how maybe we could someday host major tournaments here. This venue seems to be phenomenal to have a great stage for it. a Smash tournament. "
Back on the exhibition floor, stalls of all kinds were set up selling action figures, comics, posters, and all the middleman merchandise that would appeal to the pop culture lover.
Hailing from Hot Springs, Lori Erickson walked the rows of the showroom in the intimidating Hela costume from the Marvel Cinematic Universe.
"It's completely all inclusive," Erickson said. "You can be anyone, anywhere, anytime and it all blends together."
With Hela's crown of black horns protruding from Erickson's head, she added that her favorite part of Spa-Con was the costumes.
"I love the costumes," Erickson said. "What I really like is how many vendors we have here this year. It's artistic. It's a community of craftspeople. Hot Springs is very artistically oriented. It's one of those places where you can really bring out that creative nature. "
Rodger Bumpass, voice of Squidward in "Spongebob Squarepants" signs a shirt at Spa-Con. – Photo by Tanner Newton of The Sentinel-Record
Lexi, of Chalk Twins, is working on creating a chalk creation "Loki" at Spa-Con. – Photo by Tanner Newton of The Sentinel-Record